How To Create & Edit Templates In A Transactional Account
Watch our video tutorial
Transactional SMS route is used to send non-promotional messages like order confirmation alerts, OTPs, reminders, notifications or any message that is purely informational in nature. In order to ensure this, transactional route is template restricted, so you will only be allowed to send messages which match your approved templates.
Watch this video tutorial and learn how to create templates and edit existing templates in a transactional account. This video also gives you quick tips on creating and using templates via API.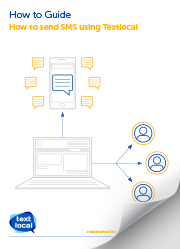 Download our how-to guide
A step-by-step guide for transactional account holders on how to create and edit SMS templates and how to send an SMS using Messenger or API. It includes everything you need to know about different types of templates, replaceable parameters, merge fields and common troubleshooting FAQs.
Watch the video in Telugu
Try us. You will love the Textlocal experience.
Easy and Powerful
Effortlessly send powerful bulk SMS communications from our easy-to-use web interface and comprehensive & flexible SMS APIs.
Best-in-class SMS Delivery
Get unmatched delivery rates and speeds with our direct telecom operator connectivity and intelligent bulk SMS gateway.
Fanatic Customer Support
Whether it's detailed demos, SMS API integrations or bespoke requests, we're always there to help you. We're rated 4.8/5 on Trustpilot.
One Place For All SMS Needs
10 test credits on activating your account. Only for business use. No credit card required.