Create and Send Mobile Tickets, Vouchers and Loyalty cards
Easily create full-featured mobile tickets and vouchers with unique coupon codes, QR/bar codes, passbook, and mobile wallet integration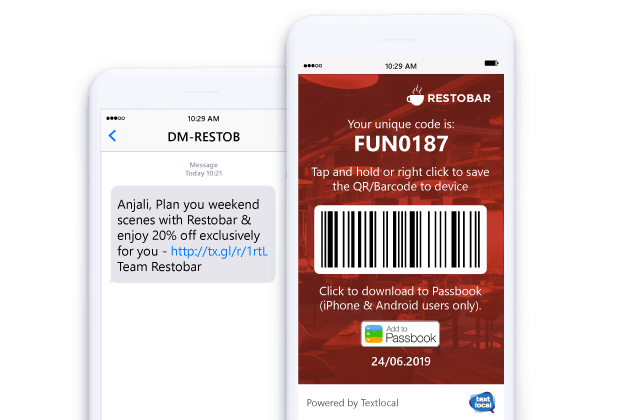 Mobile tickets
Sending mobile tickets is a great way to give your customers one-time access to an event, movie, concert, or activity, and validate/monitor customer activity. You can send unique codes for single/multiple use according to your business use case. These can be used for: 
ID verification
Click and collect code
Event ticket
Offer linked to a specific customer account

Mobile vouchers
Mobile vouchers are a powerful way to collect mobile numbers and generate leads. The vouchers are tracked at an individual level and can be sent to as many your business need requires. You can use mobile vouchers to send:
Discount voucher
Free delivery on an order
Free gift with a qualifying purchase 

Mobile loyalty cards
Track customer activity and inculcate loyalty by rewarding multiple purchases with Textlocal mobile loyalty cards. Offer a discount on the third purchase, or extend freebies after multiple actions/visits to encourage repeat transactions.

Restaurants
Hi Harish, Get 20% off the next time you dine in with us with this voucher: http://tx.gl/r/TL

E-commerce
Happy Birthday! Get 25% off on all apparel today with this exclusive discount voucher: http://tx.gl/r/TL

Tourism
Hi Neha, Here is the ticket for 4 adults and 2 kids to Ocean World Tour on June 14: http://tx.gl/r/TL. 

Event Management
Hi Ankit, Here's your invite for the Tech Expo 2K15: https://tx.gl/r/TL

Retail
Buy 3 qualifying purchases this month and claim your free gift.

Food & drink
Text COFFEE to 92205 92205 to join our coffee club, and get your 5th coffee free.
Give your ticket, voucher or loyalty card a name, then select either a single use or multi-use.
Single Use
Select single-use if you want to create a ticket or voucher that can only be redeemed once.
Multi use
Select multi-use if you want to create a loyalty card that can be redeemed multiple times.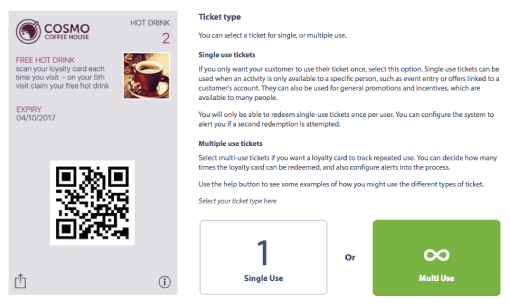 Send your ticket or voucher
Send Later
If you click Send Later, your ticket, voucher or loyalty card will be saved to send later. You can access them by clicking Ticketing on the top ribbon, then going to Your Vouchers & Tickets.
Send to a group
If you opted to send to existing contacts, click on Send to a Group. You will be taken to the Send a Text Message page, where the message box is pre-populated with the link to your tickets/vouchers/loyalty cards. You can send your message immediately, or schedule it for a later date.
Respond to inbound messages
If you opted to respond to inbound messages you now need to configure the automated response in which the ticket or voucher will be sent. Click on Configure Now
Redeeming your ticket, voucher and loyalty cards
Redeeming in the Textlocal mobile app
If you use the mobile app to redeem, you can either scan the QR code and/or barcode on the ticket or voucher or enter the code manually. If you've set up a display message for this scan, this will pop up on your phone now. As well as this, the app will confirm that the ticket or voucher was scanned successfully.
Redeeming in the Textlocal platform
In the Tickets menu option, select Redeem and then enter the unique ticket code. The screen will display any messages you've included to be shown at this point, as well as details about the scan and the customer.
Redeeming in your own system
If you'd like to redeem tickets and vouchers through your own platforms, please get in touch and we can help you set this up.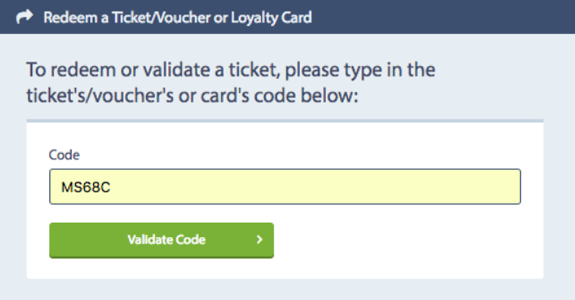 In Messenger, you can see reports on your ticket and voucher scans. The codes will be grouped together showing the most recent scan first. You can also search for codes that have been scanned and specify a date range in which to search.
You can export the data for further analysis if required. This data will include the time & date of the most recent validation. You can also export non-redeemers, so you can target these people individually. For example: '#FirstName# you haven't claimed your free delivery yet. Click here to get your unique code.
Pay-as-you-go: Each ticket send will cost 2x the credits required for a normal SMS and each redemption costs 0.5x credits. It is limited to 2 concurrent tickets and displays "Powered by Textlocal" in the ticket.
Monthly Subscription: Each ticket send will cost the same credits as a normal SMS and redemption is free. You can create unlimited concurrent tickets with no Textlocal branding (in the ticket). Contact sales@textlocal.in for pricing – Get a free trial for 3 months!
Trusted By Over 225,000 Businesses

























Customer Service & Support Is Realtime and Excellent. We chose Textlocal due to the versatile options in their product, which cover different areas of communication. Customer Service of Textlocal is the best part of the deal; Hassle-free, real-time support and best in reverting to the query without follow up.
---

We had a Smooth Relationship with Textlocal and no issues in the service. Good Co-ordination and great service by the Textlocal team.
---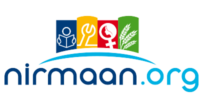 It's been our pleasure that we are connected with TextLocal for the services since long & we are happy to utilize these services, Recently we were looking to send personalized messages because the content of the message was with a link on candidates name and asking some sort of personal information. We approached Textlocal and were told about the "Excel to SMS" feature. We have sent personalized campaigns to 3 lakh+ data and are very happy with the results, all thanks to Textlocal team.
---

Dashboard is easy to understand and all the necessary functionality is offered. Alerts setting, Reports, API Integration, SMS scheduling is easily done, along with it we can fetch detail reports anytime. Support Team is available to solve the Query.
---

The team is very much supportive and managed all our projects effectively. They were very responsive and worked fast to touch our target. We hope that you will continue to favour us with your extended support.
---
Their API service works perfectly. Their customer support picks up the phone and responds to our queries within less than 5 minutes *every single time* and the user interface of the product is simple and once again, just works.
---

Our experience with Textlocal's E-mail to SMS Gateway service has been very positive - all the way from evaluating the service (received very nice technical sales support to address our key requirements) to adoption (very simple & quick processes + very responsive team that helped us get started quickly) & usage- the service itself has been very reliable so far!!
---
Easy to use and the SMS campaigns are done swiftly. Batch Scheduling on a specific time has been functioning superbly. Tracking of messages provide a great support to us in analyzing the outcomes.Overall a great experience !
---
Try us. You will love the Textlocal experience.
Easy and Powerful
Effortlessly send powerful bulk SMS communications from our easy-to-use web interface and comprehensive & flexible SMS APIs.
Best-in-class SMS Delivery
Get unmatched delivery rates and speeds with our direct telecom operator connectivity and intelligent bulk SMS gateway.
Fanatic Customer Support
Whether it's detailed demos, SMS API integrations or bespoke requests, we're always there to help you. We're rated 4.8/5 on Trustpilot.
One Place For All SMS Needs
10 test credits on activating your account. Only for business use. No credit card required.